I'm happy to deliver you our April Governmental Affairs and Public Policy Update. This update will highlight the latest initiatives that may directly impact your business, our community and the real estate industry at all levels. We want to ensure you stay informed.
This month our Governmental Affairs Committee hosted a 2021 Hillsborough County Schools Forum with Superintendent Addison Davis and School Board Member Lynn Gray. During the forum, we discussed several issues, including the 2021 school year, the school budget, capital expenditure projects, and the future vision of Hillsborough County Schools. To learn more about these issues, I encourage you to watch the webinar.
For more information on the policies discussed in the April Governmental Affairs Committee meeting, download our Greater Tampa REALTORS® Public Policy Report. This report provides an overview of important real estate issues that we are tracking at the local, state and federal levels. In the April 2021 Report, you will find information on:
Emergency Rental Assistance (Pasco and Hillsborough)
All for Transportation Surtax (Hillsborough)
Tampa Bay Passenger Ferry (Hillsborough)
Impact Fees (City of Tampa and Hillsborough)
Moratoriums (City of Tampa and Pasco)
Affordable Housing Trust Funds (State)
COVID-19 Relief Package (Federal)
The PRO Act (Federal)
In addition to our monthly report, I encourage you to sign up for REALTOR® Party Mobile Alerts. This texting platform is a great way to stay connected with NAR's Advocacy program. When a national or state legislative call for action is launched, subscribers get a short text message containing information to take action.
Sign up today by texting the word
REALTORS to 30644
Should you have any questions, please contact me.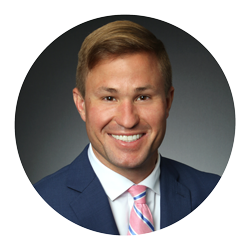 Jacob Bruynell, RCE, C2EX, AHWD
Director of Governmental Affairs